AESP-OCAMO Amazon Echo Spot - Orange Camo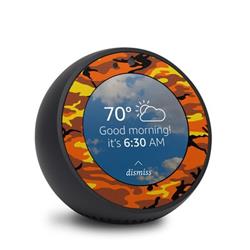 Protect and prevent your phone, Tablet, Laptop from scratches, dust and damage. It is made from a lightweight tough strong high quality material which will help to keep your phone, Tablet, Laptop safe. The material is soft which is hard wearing. This will not only look good on your phone, Tablet, Laptop but will protect it. Easy to change and simply slides on and off and can be changed and used many times. FeaturesFits Echo Spot Easy, bubble-free installation and goo-free removal Thin and tough - protects from minor scratches Made in the USA Amazon Echo Spot SpecificationsCollection: Camo ...
Buy Now
$11.87

Related Products
$42.23
360 Degree Rotation Aluminum Alloy Mount Bracket Base for Amazon Echo Show
View Item
$14.70
Features:This smart plug is compatible with Amazon Alexa Echo/Google Home, which enables you to instantly turn on/off your devices via voice control.Suitable for iOS/Android smartphones. The Mobile APP can remotely control the ON/OFF status of the smart plug as long as both mobile and smart plug are connecting network.Allows you through the Mobile APP to schedule the smart plug to automatically switch on/off the devices based on your specific time.And also you can replace the smart plug name based on your needs through the mobile APP.Easy installation and stable connection, it can control different home electronics devices, such as lamps, Christmas Lighting, washing machine, coffee maker, etc.No hub or accessories required, it works with any WiFi router without the need for a separate hub or paid subscription service.The smart plug supports power saving function, preventing overcharging and overheating to save your electric bills and extend product life.Compact and mini design, made of ABS+PC flame resistance material, safe to use.
View Item

Be The Superhero Of Your Smart Home
You can teach an old 🏡 new tricks with smart devices. Whether your house is one or one hundred years old it can be a smart home. Sign up today to see the top 12 smart devices to build your smarter home. 🙂 Are you more interested in a Google smart home or an Amazon smart home? Let us know above.