AESP-TRAVELER Amazon Echo Spot - Traveler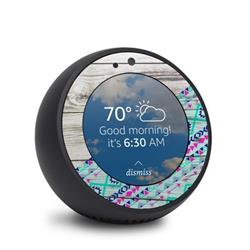 Amazon Echo Spot Protect and prevent your phone, Tablet, Laptop from scratches, dust and damage. It is made from a lightweight tough strong high quality material which will help to keep your phone, Tablet, Laptop safe. The material is soft which is hard wearing. This will not only look good on your phone, Tablet, Laptop but will protect it. Easy to change and simply slides on and off and can be changed and used many times. FeaturesFits Echo Spot Easy, bubble-free installation and goo-free removal Features unique artwork by Camo Thin and tough - protects from minor scratches Made ...
Buy Now
$13.98

Related Products
$20.98
Features:* The Speaker Stand is suitable for Amazon Echo Plus, for 1st Generation Echo and UE Boom and other suitable models.* The holder helps improving stability and provides protection, prevents the speakers from falling off or scratching.* Desktop stand with horseshoe design, stable and practical, allows for easy placement of the speaker and its cable.* Three Acrylic Ring, open all the way, no interfere with the voice recognition, easy to put the speaker in and out.* Equipped with a soft cushion at the bottom, avioding scratching the underside of your speakers.Note: The Speaker is not included.
View Item

$31.99
Aluminum Alloy Stand Holder Bracket Horizontal 360 Degree Protective Station Home Office Base Cradle for Amazon Echo Show Smart Speaker
View Item

Be The Superhero Of Your Smart Home
You can teach an old 🏡 new tricks with smart devices. Whether your house is one or one hundred years old it can be a smart home. Sign up today to see the top 12 smart devices to build your smarter home. 🙂 Are you more interested in a Google smart home or an Amazon smart home? Let us know above.