Amazon Echo Dot (3rd Generation) (Sandstone)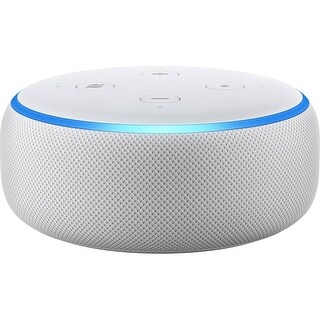 Amazon Echo Dot (3rd Generation) (Sandstone). Integrate nearly any speaker into your Alexa ecosystem with the 3rd-generation Amazon Echo Dot . It is equipped with Bluetooth and Wi-Fi connectivity and Amazon Alexa to make nearly any wired speaker system wireless and voice-controlled. You can also use the onboard 1.57" speaker, which outputs up to 1.2W, for streaming and Alexa functionality at more moderate volumes. With Alexa, the Echo Dot provides access to Internet-based functions such as Amazon and other online shopping, weather reports, sports results, and more. Product Highlights: Enables Wireless Music Streaming Amazon Alexa ...
Buy Now
$49.99

Related Products
$54.99
i-Box Roost Bedside Speaker Dock for Amazon Echo Dot 2nd Gen with LED Clock
View Item
$15.93
This I/O Crest smart wall mount keeps your Echo Dot speaker on vertical surface such as wall, cabinet or anywhere you like to make it easier to catch the sound/command more effectively. No more furniture or other items interferring. Provides small foot print to operate your home speaker by mounting it to any wall outlet. No longer needing to run long charging cable and needing to make room on any counter top or night stand. It helps to keep everything neat and modern. FeaturesCan be either drilled directly into the wall or held in place with the reusable sticky backing for installation Very easy to install and the Echo Dot smart speaker is secure in place with clips The hanger holder does not block any of the speaker and microphone ports which allows crystal clear sound and no lost of voice input Can easly be moved to any flat wall surface without any tools and give a lot cleaner and tidier appearance Echo Dot wall mount-Place the Echo Dot gen 2 horizontally to receive and transmit stronger and more realistic sound As making Alexa facing you while talking to make sure she is listening to you Compatibility - The wall mount is compatible with 2nd generation device Wall Mount Hanger Holder Stand & Space Saving Bracket for Amazon Echo Dot 2nd Generation Plug in SpecificationsWeight: 0.5 lbs
View Item

Be The Superhero Of Your Smart Home
You can teach an old 🏡 new tricks with smart devices. Whether your house is one or one hundred years old it can be a smart home. Sign up today to see the top 12 smart devices to build your smarter home. 🙂 Are you more interested in a Google smart home or an Amazon smart home? Let us know above.