Apple HomePod Smart Speaker (Refurbished) (Space Gray)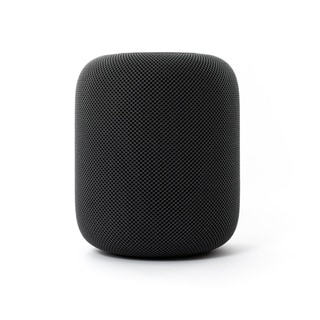 Apple HomePod Smart Speaker (Refurbished) (Space Gray). The Apple MQHW2LL/A Smart Speaker HomePod features a high excursion woofer with customer amplifier, seven horn loaded tweeters, and six microphones. The HomePod works with Apple Music service, supports Siri for voice interaction, and a round display at the top with touch sensitive controls. HomePod is compatible with the iPhone 5s or later, iPad Pro, iPad (5th Gen), iPad Air or later, iPad mini 2 or later, or iPod touch (6th Gen) running iOS 11.2.5 or later. Display: Round display on top of HomePod Resolution: 272x340 Processor: Apple A8 1....
Buy Now
$215.99

Related Products
$89.00
Design features: Send us a message with design ideas or leave us your contact information to be the first to know when it's available.
View Item

$258.99
HomePod is a breakthrough speaker that senses its location and tunes the music to sound amazing wherever you are in the room. Together with Apple Music, it gives you access to over 45 million songs. And with the intelligence of Siri, it's a helpful home assistant for everyday tasks, and for controlling your smart home accessories - all with just your voice. Welcome HomePod. Breakthrough speaker with amazing sound Spatial awareness that senses its location Built to bring out the best in Apple Music Learns what you like based on what you play Intelligent assistant helps with everyday tasks Controls your smart home accessories Requires iPhone, iPad, or iPod touch with iOS 11.2.5 or later for setup. Siri works with Apple Music. Subscription is required for Apple Music. Only HomeKit-enabled devices can be controlled by HomePod.
View Item

Be The Superhero Of Your Smart Home
You can teach an old 🏡 new tricks with smart devices. Whether your house is one or one hundred years old it can be a smart home. Sign up today to see the top 12 smart devices to build your smarter home. 🙂 Are you more interested in a Google smart home or an Amazon smart home? Let us know above.