Amazon Echo Dot (3rd Gen) Smart speaker with Alexa (Plum)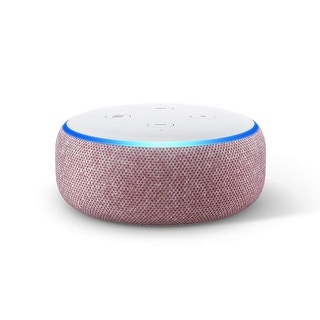 Amazon Echo Dot (3rd Gen) Smart speaker with Alexa (Plum). Echo Dot is our most popular voice-controlled speaker, now with improved sound and a new design. Ask Alexa to play music, answer questions, read the news, check the weather, set alarms, control compatible smart home devices, and more. Stream songs from Amazon Music, Spotify, SiriusXM, and others through the improved speaker for richer and louder sound. Call and message almost anyone hands-free. Instantly drop in on other rooms in your home or make an announcement to every room with a compatible Echo device. Alexa is always getting smarter ...
Buy Now
$49.99

Related Products
$29.95
The Official Amazon Echo Dot (3rd Gen) Smart speaker with Alexa. Charcoal version.
View Item

$15.93
Protect and prevent your phone, Tablet, Laptop, PlayStation and other electronic devices from scratches, dust and damage. It is made from a light weight tough strong high quality material which will help to keep your devices look trendy and safe. The material is soft which is hard wearing. This will not only look good on your gadgets but will protect it. Easy to change and simply slides on and off and can be changed and used many times. FeaturesAmazon Echo Dot 3rd Gen Skin Fits Echo Dot 3rd Gen Easy, bubble-free installation and goo-free removal Thin and tough - protects from minor scratches Made in the USA SpecificationsDesign: Leopard Spots Artwork by: Animal Prints
View Item

Be The Superhero Of Your Smart Home
You can teach an old 🏡 new tricks with smart devices. Whether your house is one or one hundred years old it can be a smart home. Sign up today to see the top 12 smart devices to build your smarter home. 🙂 Are you more interested in a Google smart home or an Amazon smart home? Let us know above.