AES2-SS-WHT Amazon Echo Show 2nd Gen Skin - Solid State White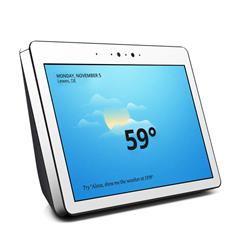 Protect and prevent your phone, Tablet, Laptop, PlayStation and other electronic devices from scratches, dust and damage. It is made from a light weight tough strong high quality material which will help to keep your devices look trendy and safe. The material is soft which is hard wearing. This will not only look good on your gadgets but will protect it. Easy to change and simply slides on and off and can be changed and used many times. FeaturesAmazon Echo Show 2nd Gen Skin Fits Echo Show 2nd Gen Easy, bubble-free installation and goo-free removal Thin and tough - ...
Buy Now
$23.27

Related Products
$12.99
Do You Want Your Amazon Echo Show (2nd Gen) To Look Different Than The Rest? You're in the right place because we've got exactly what you're looking for! This Mexican Flag skin is the perfect way to show off your style! Or with hundreds of other MightySkins designs, you can be sure to find one that you'll love, and that will show off your unique style! Do You Want To Protect Your Amazon Echo Show (2nd Gen)? With MightySkins your Amazon Echo Show (2nd Gen) is protected from scratches, dings, dust, fingertips, and the wear-and-tear of everyday use! Cover your Amazon Echo Show (2nd Gen) with a beautiful, stylish decal skin and keep it protected at the same time! Easy to apply, and easy to remove without any sticky residue! Make your favorite gear look like new, and stand out from the crowd! Order With Confidence - Satisfaction Guaranteed! MightySkins are durable, reliable, made in our state-of-the-art production facility in the U.S.A, and backed by our satisfaction guarantee! Product Details: Vinyl decal sticker NOT A HARD CASE Matte Finish Ultra-Thin, Ultra-Durable, Stain Resistant Hundreds of different designs Amazon Echo Show (2nd Gen) is not included.
View Item

$79.99
YoFeW Full Aluminum Highly Polished Protection Stand Holder Mount for Amazon Echo Show 2nd Gen Enhanced Stability Avoiding Accidental Knock-over The stand for echo show gives your Alexa a much better stance to prevent from being knocked over, especially when placed at the edges of platforms. Perfect Protection from Water Damage For those who like watching videos in kitchen, or other places of easy access to water, this holder for alexa echo show helps you to avoid water damage. 360 Degree Rock Amazon Echo Show It's probably hard for you to turn the heavy echo show (62.2 oz) around to adjust a comfortable viewing angle when using video calls and watching videos, now you can rotate it randomly so that you can aim the best screen view. Hollow Design for Easier Moving It's a frequently needs for us to move the Amazon Echo Show around, the hollow design in the middle part adds perfect handles for easier operating. The Rubber Trip Avoiding Scratching A rubber strip is thoughtfully constructed on the mount to protect your Alexa Echo Show from scratching. Bottom Rubber Pad Preventing Slipping The non-slip pad on the bottom prevents slipping and ensures stability of the whole unit. Meanwhile, it also protects any surface you put the Amazon Echo Show accessories on. Highlight Polished Craft Fully polished shining edges adds diamond character to your echo show, makes it a clean & stylish desk art. Perfectly Fits Amazon Echo Show Every single finish is customized for Alexa Echo Show, the holder fits perfectly and Intimately. Fully Sleek Design for Safety All edges are not sharp and user-friendly, ensures the safety of you and your devices.
View Item

Be The Superhero Of Your Smart Home
You can teach an old 🏡 new tricks with smart devices. Whether your house is one or one hundred years old it can be a smart home. Sign up today to see the top 12 smart devices to build your smarter home. 🙂 Are you more interested in a Google smart home or an Amazon smart home? Let us know above.