Google GA00216US Home Mini - Charcoal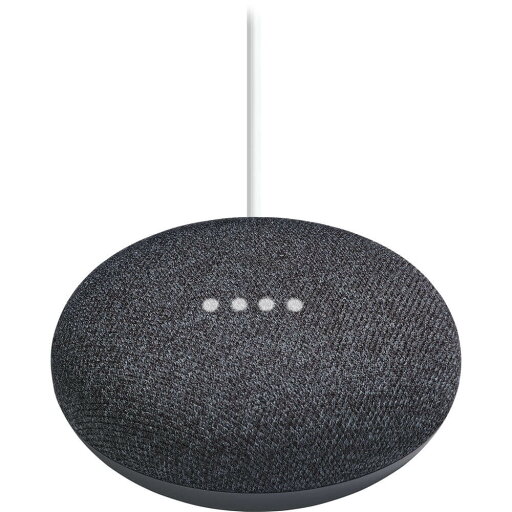 Far-Field Voice Recognition Technology Multi-User Capability Dual-Band Wi-Fi Connectivity Bluetooth Support Works with Chromecast 1x 1.58 in. Driver for 360 Sound Works with the Google Assistant Compact Design at 3.86 in. Wide, 1.65 in. High Hands-free help around the house. Mini is powered by the Google Assistant. So whenever you need help, its by your side. Google Home Mini requires a Wi-Fi network, a nearby electrical outlet, and a compatible mobile device. Get answers from Google. Want the latest weather, traffic, finance, sports and more? Simply ask. Tackle your day. Get ...
Buy Now
$29.00

Related Products
$37.06
Google Home Mini - Chalk condition: New Brand: EA MPN: VIPRB-GA00210-US
View Item

$49.99
Comes with YouTube Music Premium - free for 14 days With Music Premium, you can use a simple voice command to stream ad-free music at home. After your first 14 days, you'll have the opportunity to extend your free trial for an additional 3 months* A powerful little helper Get hands-free help in any room with Google Home Mini. It's powered by the Google Assistant. You can ask it questions. Tell it to do things. It's your own personal Google. Get answers from Google Use your voice to quickly find information about the weather, news, sports and more. "Hey Google, will I need an umbrella today?" Manage your day from breakfast to bed Get help around the house with things like your schedule, commute, travel information and more. Google Home Mini can even help you find a lost iPhone or Android phone and make phone calls to any personal contact or business.¹ "Hey Google, wake me up at 6:30 AM tomorrow." Play, pause and rewind. Hands-free Control your favorite music, movies and shows, using only your voice.² "Hey Google, play some pop music." Control your smart home Use your voice to control your compatible lights, thermostats and more. Google Home Mini works with more than 1,000 smart devices from over 150 popular brands. "Hey Google, turn off the bedroom lights." Your voice. Your info Get personalized responses for everyone at home with voice recognition.³ "Hey Google, when is my first meeting tomorrow?" Fun for the whole family Learn something new, play fun games and listen to stories with the Google Assistant. Want to tell the kids breakfast is ready? Broadcast a message to other Google Home devices around the house.? "Hey Google, let's play a game." Choose between different colors Google Home Mini comes in two unique colors, Chalk and Charcoal. Select the right color that matches your room and personal style. ¹ In the US and Canada. 911 and 1-900 calls are not supported ² Subscriptions required to access some content ³ Google Home can distinguish up to six
View Item

Be The Superhero Of Your Smart Home
You can teach an old 🏡 new tricks with smart devices. Whether your house is one or one hundred years old it can be a smart home. Sign up today to see the top 12 smart devices to build your smarter home. 🙂 Are you more interested in a Google smart home or an Amazon smart home? Let us know above.