Google GA00216US Home Mini - Charcoal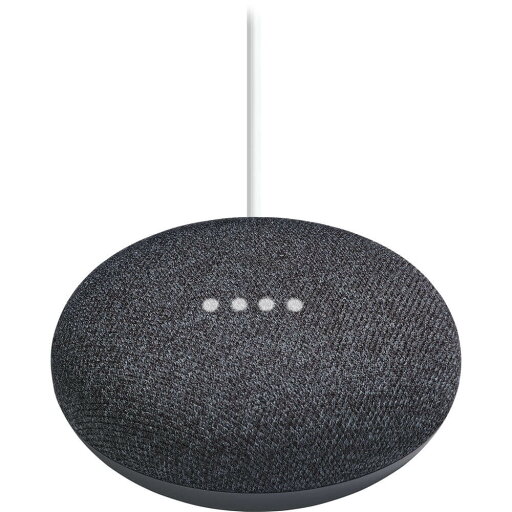 Far-Field Voice Recognition Technology Multi-User Capability Dual-Band Wi-Fi Connectivity Bluetooth Support Works with Chromecast 1x 1.58 in. Driver for 360 Sound Works with the Google Assistant Compact Design at 3.86 in. Wide, 1.65 in. High Hands-free help around the house. Mini is powered by the Google Assistant. So whenever you need help, its by your side. Google Home Mini requires a Wi-Fi network, a nearby electrical outlet, and a compatible mobile device. Get answers from Google. Want the latest weather, traffic, finance, sports and more? Simply ask. Tackle your day. Get ...
Buy Now
$29.00

Related Products
$39.99
Product Information The Google Home Mini Smart Assistant in chalk has everything a Smart Assistant device requires in a small package. The Mini is a smooth flat disk measuring about 4 inches in length and 1.5 inches in height. The top half is a 360 degree speaker that has hidden LED status lights to help communicate when the Mini is working or listening. The Mini has a single switch that will disable the always-on microphone, and a Micro USB port. It requires only a power supply and to be synced to your home Wi-Fi network. It also has Bluetooth support, and functions as a Chromecast device. It responds to all voice commands and will listen actively for the phrase "OK Google", which will let it know to follow the next command. The Mini can, on request, search for answers online, set alarms and manage appointments, play music, and fetch news and weather information. The Mini can also identify individual voices, so two different people asking what the traffic is like on the way to work, for example, will receive personalized answers. The Mini can offer step by step instructions for recipes, repeating and going back to previous steps on request and it can translate individual words and phrases, convert currency or other units of measurement, do advanced math, and read audiobooks. If connected to other smart devices, it can be used to control them. If connected to a television, the Mini can be used to play movies and TV shows on request. If connected to smart bulbs or switches, it can turn lights on and off. Google Home Mini Chalk - GA00210-US
View Item

$11.85
jakcom se3 professional sport wireless earphone packaging details: inner white box: unit g.w is about 53g, unit size is 75mm x 71mm x 33mm; outer brown box: unit g.w is about 14768g, unit size is 53cm x 29cm x 37cm , max with 266pcs professional sport wireless earphone.
View Item
Be The Superhero Of Your Smart Home
You can teach an old 🏡 new tricks with smart devices. Whether your house is one or one hundred years old it can be a smart home. Sign up today to see the top 12 smart devices to build your smarter home. 🙂 Are you more interested in a Google smart home or an Amazon smart home? Let us know above.