iView Smart Home Guardian Kit (Smart Camera, Bulb, Socket, Motion & Door Sensor)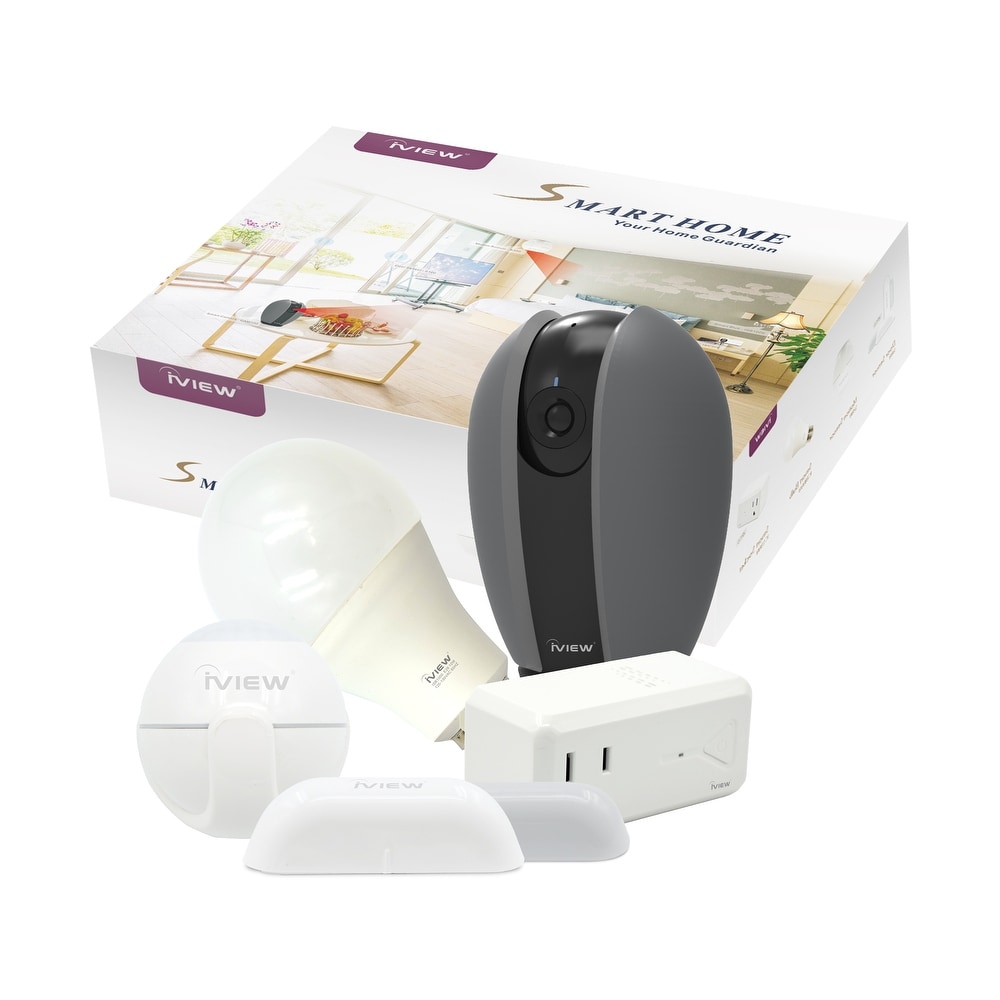 iView Smart Home Guardian Kit (Smart Camera, Bulb, Socket, Motion & Door Sensor). 1 CAM100 Smart Panoramic Camera 1 ISB1000 Smart WiFi Light Bulb 1 ISC100 Smart Socket 1 S200 Motion Sensor 1 S300 Door Sensor These devices only works with 2.4 GHz wireless connection CAM100 Smart Panoramic Camera Our Iview smart cameras can be easily installed and used right out of the box. The multi-functional WiFi camera will be up and running in no time at all! Featuring crisp, 1080p HD resolution, smart motion tracking, tilt and pan control w/ digital zooming and a 350-degree coverage, our ...
Buy Now
$119.00

Related Products
$40.07
Introducing the ultimate wifi plug that will make life easy and more enjoyable. Feel the power of the Iview Smart Socket. Imagine being able to control your household appliances by simply talking to Alexa, your Google Assistant, or our very own Genie Download the iView iHome app on your smartphone or tablet to gain full control over average, non-smart devices. Power up, command, and get them to perform from anywhere Iview Smart Sockets are compatible with iPhones and iPads, Android Phones and Android tablets. SpecificationsWeight: 0.0625 lbs
View Item

$29.99
iView-ISB800 WiFi Smart LED Bulb The iView Smart Bulb offers a robust suite of features, including app control, voice command, multicolor lighting, scheduling and energy efficiency. Control lighting in any part of your house with ease using your smart phone. Whether individually or in groups, IVIEW Smart Bulbs can be turned on/off, timed, and personalized via the IVIEW iHome app. The iView-ISB800 WiFi Smart Bulb is compatible with our very own Iview Genie, Amazon Alexa, or Google Assistant. Just speak up to dim or brighten the lights, and do other smart bulb adjustments absolutely hands-free! Our energy efficient Smart LED Bulbs can save up to 80% more energy than incandescents and will last a long, long time with an extended life of approximately 20,000 hours. The iView-ISB800 WiFi Smart LED Bulb is undeniably the coolest of smart light systems! Usability, responsiveness, convenience, big savings, sustainability, stylish lighting, plus an intuitive app. All these you can get at a cheaper price compared to other brands. IVIEW Smart Bulbs will illuminate your home without the sticker shock of LEDs. The only real difference is the cost, because less is more when it comes to Iview pricing. The Iview Smart Bulb arrives at a lowly market price, yet comes with extraneous features. How do we do it? Iview people are passionate about their jobs, customer-oriented, and cares about the world. Industry experts who love what they do working together in one team results to the highest quality products at the most affordable prices. How Do Smart Light Bulbs Work? Smart lighting generally runs on a network of smart bulbs that are wirelessly connected to a router. Each smart bulb can then be controlled by a hub designed to be plugged into your router. Wireless communication standards often used are Bluetooth smart light bulbs. The hub enables networked devices, i.e. your smartphone or tablet, to communicate with the smart bulbs. How Do Smart Bulbs Work With Switches? Now you may be
View Item

Be The Superhero Of Your Smart Home
You can teach an old 🏡 new tricks with smart devices. Whether your house is one or one hundred years old it can be a smart home. Sign up today to see the top 12 smart devices to build your smarter home. 🙂 Are you more interested in a Google smart home or an Amazon smart home? Let us know above.