Nest 3rd Generation Learning Stainless Steel English Programmable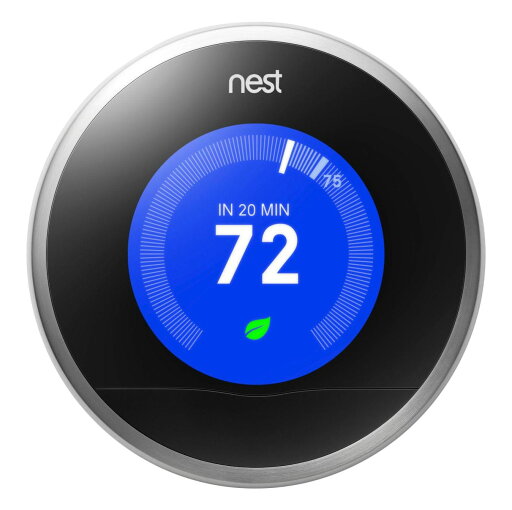 Product Information: The 3rd generation stainless steel Nest Learning Programmable Thermostat makes it possible for users to control the temperature at home or the office using a smartphone or related device, saving energy and lowering electric and heating bills at the same time. The 3rd generation Nest Learning Thermometer features some improvements on the original Nest Thermometer, including a better design, and increased compatibility with heating and cooling systems. The Nest programmable thermostat features an easy-to-read digital display that displays information in English and Spanish as well as in colors that indicate what is going on with your ...
Buy Now
$235.00

Related Products
$249.99
The brighter way to save energy. Meet the 3rd Generation Nest Learning Thermostat. It has new rings and a big, sharp display. And it helps save energy. That?s the most beautiful part. There?s a ring for every home. The Nest Learning Thermostat now has a ring to fit any home?s style. Choose copper to add a warm touch. Stainless steel is perfect for a classic, versatile look. And white looks great in simple, modern homes. Nest Learning Thermostat programs itself. Then pays for itself. It learns what temperatures you like, turns itself down when you?re away and connects to your phone. It has a big, sharp display. And it?s proven to help save energy. In independent studies, the Nest thermostat saved an average of 10% to 12% on heating bills and 15% on cooling bills. We?ve estimated average savings of $131 to $145 a year. Better together. The Nest Learning Thermostat works with Nest Protect. If Nest Protect detects dangerous carbon monoxide gas, it can tell the Nest Learning Thermostat to turn off the furnace ? a common source of carbon monoxide leaks.
View Item

$249.00
The 2Nd generation Nest learning THERMOSTAT has a new, slimmer design, is enclosed by a solid stainless steel ring, and Works with 95% of low voltage systems. The Nest learning THERMOSTAT learns what temperatures you like, turns itself down when you're away and can be controlled from anywhere over Wi-Fi. By programming itself, the Nest THERMOSTAT can save up to 20% on your heating and cooling bill. You just have to teach it well.
View Item

Be The Superhero Of Your Smart Home
You can teach an old 🏡 new tricks with smart devices. Whether your house is one or one hundred years old it can be a smart home. Sign up today to see the top 12 smart devices to build your smarter home. 🙂 Are you more interested in a Google smart home or an Amazon smart home? Let us know above.