Axis 52 Inch Three Speed Indoor / Outdoor Smart Flush Mount Ceiling Fan with Six Speed DC Motor and LED Light. (White)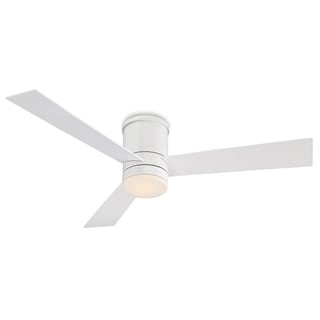 Axis 52 Inch Three Speed Indoor / Outdoor Smart Flush Mount Ceiling Fan with Six Speed DC Motor and LED Light. (White). A simple, sophisticated smart fan that works seamlessly in transitional, minimalist and other modern environments, Axis is perfectly sized for medium-sized kitchens, bedrooms and living rooms, and its wet-rated status and weather-resistant finish make it prime for outdoor use as well. Unleash the full potential of Axis with our Modern Forms app, which offers smart features like Adaptive Learning and Away Mode, and helps cut down on energy use by integrating with your smart thermostat. Modern ...
Buy Now
$349.95

Related Products
$189.99
Nest Learning Thermostat with built-in Wi-Fi allows you to control your home's climate from your phone, tablet or laptop Auto schedule uses advanced sensors and algorithms to create a custom Temperature plan that saves energy and keeps you comfortable Auto Away reduces heating and cooling in empty homes by automatically turning itself down after you leave
View Item

$189.00
Product Information The 2nd generation stainless steel Nest Learning Programmable Thermostat makes it possible for users to control the temperature at home or the office using a smartphone or related device, saving energy and lowering electric and heating bills at the same time. The 2nd generation Nest Learning Thermometer features some improvements on the original Nest Thermometer, including a better design, and increased compatibility with heating and cooling systems. The Nest programmable thermostat features an easy-to-read digital display that displays information in English and Spanish as well as in colors that indicate what is going on with your heating and cooling. Blue lighting indicates that the air conditioning is running while orange indicates that the heat is on. If the display is unlighted, it means nothing is running. It has a black display area and white base with stainless-steel housing, which blends in well on any wall. The Nest Learning Thermometer is capable of being operated via applications that are accessible on smartphones, laptops, tablets, desktop PCs and even smart TVs. Users can adjust the temperature of their home or business even when blocks or miles away. As a learning thermometer, the Nest device also deduces how you use the air conditioning and heating in your space and adjusts it automatically based on your previous actions. It also raises or lowers the temperature when no one is around, saving on energy costs in the process. Through the application, users can also see how much energy they use daily and receive suggestions on how to cut heating and electric bills even further. Product Identifiers: Brand: Nest MPN: T200577 UPC: 0854448003037, 8859094921362 Model: Nest Learning Thermostat (2nd Generation) User Interface: Digital Color: Silver Connected Home Protocol: Wi-Fi Type: Programmable Thermostat Manufacturer Color: Silver Connected Home Compatibility:
View Item

Be The Superhero Of Your Smart Home
You can teach an old 🏡 new tricks with smart devices. Whether your house is one or one hundred years old it can be a smart home. Sign up today to see the top 12 smart devices to build your smarter home. 🙂 Are you more interested in a Google smart home or an Amazon smart home? Let us know above.