Nest - Thermostat E - white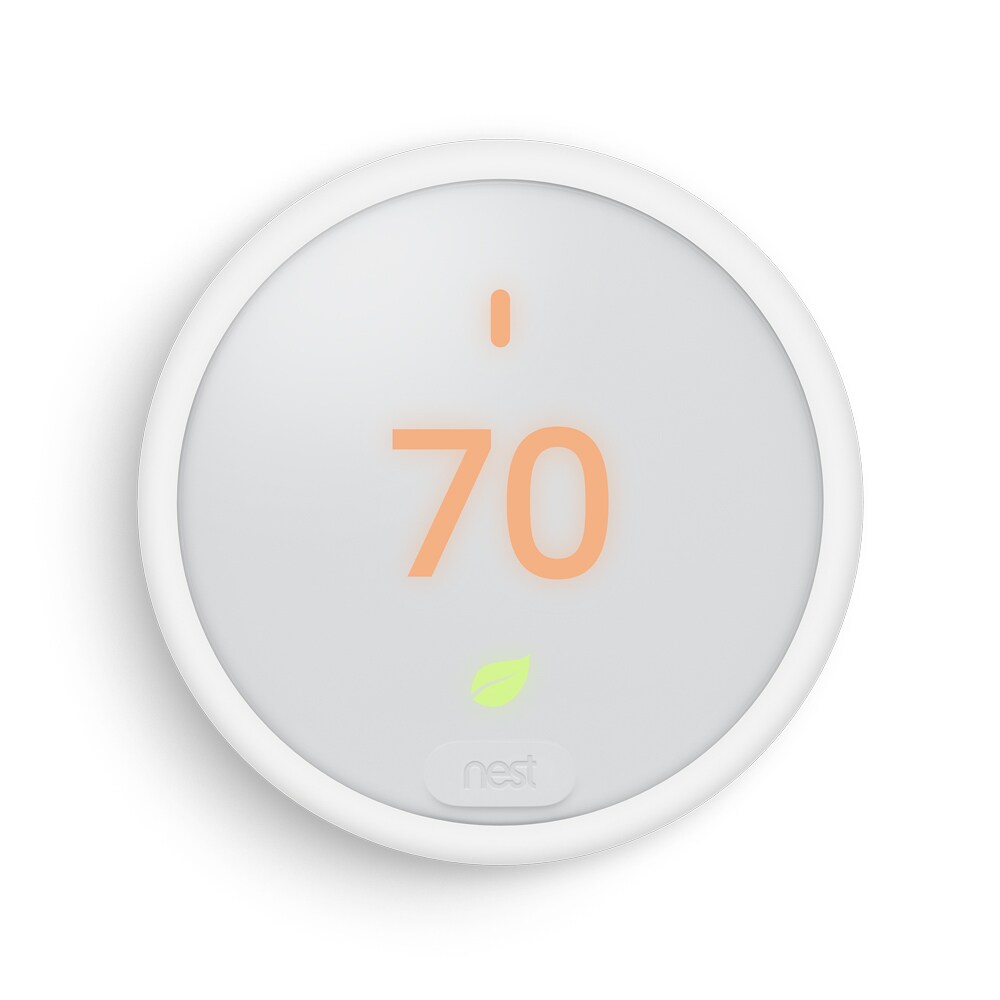 Nest - Thermostat E - white. Frosted display Blends into the background. The Nest Thermostat E fits into any home with a frosted display that won't steal your decor's thunder. Remote control Download the free Nest app for iOS 8 or Android 4 or later. Then you can change the temperature from anywhere the beach, your office, or even your bed. Energy-efficiency Start saving from day one. Plus, you can check the Nest app to see how much energy you use and why. Home/Away assist Conserve energy when you're away. The thermostat turns itself down after you ...
Buy Now
$228.99

Related Products
$159.95
It's easy to save energy. The Nest Thermostat E turns itself down when you're away. You can control it from anywhere. And its frosted display is beautifully designed to blend right in. Designed to go unnoticed. The Nest Thermostat E's frosted display blends in beautifully. Up close, everything you see is soft and subtle, like a watercolor. And it all disappears when you walk away. Turn it up or down from anywhere. With the Nest app, change the temperature from the beach, the office or your bed.1 Helps save energy. And keeps you comfortable. The Nest Thermostat E's energy-saving features have saved people an average of 10% to 12% on heating bills and 15% on cooling bills. It's easy to install Most people install their Nest Thermostat in 30 minutes or less. Compatability The Nest Thermostat E is compatible with most heating and cooling systems. Features Remote control: From your phone, tablet or laptop. Check your Energy History: See how much you save. And see how to save more. Know if there's a problem: Nest can tell you about your furnace, filters and more. Family Accounts: Everyone at home can use the Nest app. Look for the Nest Leaf: When you change to an energy-saving temperature, you'll see the Nest Leaf. Start with a simple schedule: Up in the morning, down at night. Adjust it whenever you like from the Nest app. Choose which rooms matter most: With the Nest Temperature Sensor, the baby's room or the living room can get top priority. (Sold separately.) Turns itself down when you leave: It uses your phone's location to know you're away. Specifications 24-bit color LCD 320 x 320 resolution at 182 pixels per inch 1.76 in (4.5 cm) diameter Languages: English (US, UK), Dutch, French (Canada, France), Italian, Spanish (North America, Spain) Sensors: Temperature, Humidity, ,Proximity/Occupancy, Ambient light Built-in rechargeable lithium-ion battery Power consumption: Less than 1 kWh/month Connectivity requirements: Wi-Fi internet connection, Phone or tablet running
View Item

$169.00
Meet the Nest Thermostat E. Its simple design and new frosted display blend into the background. With proven energy-saving features, the Nest Thermostat E can help you save from day one. And you can change the temperature from anywhere ? the beach, the office or your bed.
View Item

Be The Superhero Of Your Smart Home
You can teach an old 🏡 new tricks with smart devices. Whether your house is one or one hundred years old it can be a smart home. Sign up today to see the top 12 smart devices to build your smarter home. 🙂 Are you more interested in a Google smart home or an Amazon smart home? Let us know above.