Nest - Thermostat E - white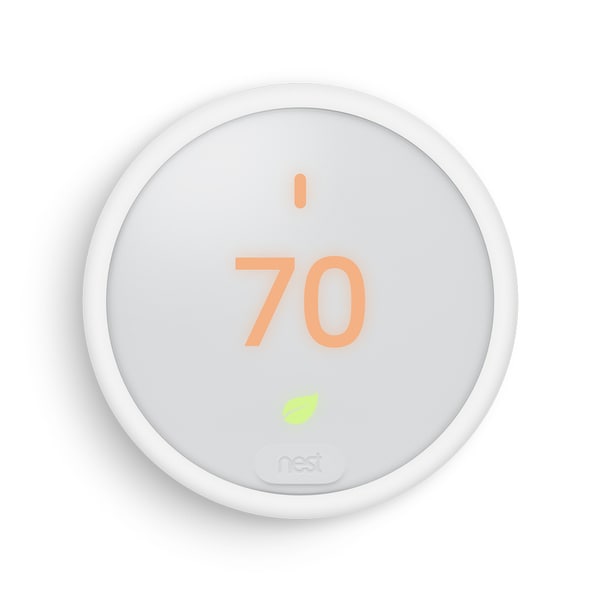 Nest - Thermostat E - white. Frosted display Blends into the background. The Nest Thermostat E fits into any home with a frosted display that won't steal your decor's thunder. Remote control Download the free Nest app for iOS 8 or Android 4 or later. Then you can change the temperature from anywhere the beach, your office, or even your bed. Energy-efficiency Start saving from day one. Plus, you can check the Nest app to see how much energy you use and why. Home/Away assist Conserve energy when you're away. The thermostat turns itself down after you ...
Buy Now
$228.99

Related Products
$139.99
Meet the Nest Thermostat E. Its simple design and new frosted display blend into the background. With proven energy-saving features, the Nest Thermostat E can help you save from day one. And you can change the temperature from anywhere the beach, the office or your bed. Frosted display - Blends into the background and fits into any home. Remote control - Use the Nest app to change the temperature from anywhere the beach, the office or your bed. Proven energy-saving features - Like the Nest Learning Thermostat, the Nest Thermostat E can help you save from day one. Home/Away Assist - Turns itself down after you leave, so you don't waste energy heating or cooling an empty home.
View Item

$168.00
Nest Learning Thermostat E is a smart device designed to learn your heating and cooling preferences and make adjustments according to them, generally within about week from installation. The Thermostat E has a 6 wire configuration that works with about 85 percentof available heating and cooling systems, and it comes in white with a frosted display to better blend into most homes. How does the Thermostat E adapt to you? Initially, you set your preferences, and when you make manual adjustments to them, the Thermostat E picks up on the changes and adapts to them. For example, if you initially set that you want the temperature to be at 70 at 7 in the morning, but then a few times in the next several days you manually turn the heat up to 75 at 7AM, the Thermostat E will officially change the 7AM temperature to 75. The same approach will be applied to all your other settings according to your preferences and habits. It also automatically adapts to seasonal changes. Furthermore, when the Thermostat E detects that everyone has left the premises, it will turn the temperature off completely (or adjust it to a set minimum if you assign one), and as soon as someone is back home, the Thermostat E will turn everything back on according to what it knows you prefer at that particular time of day (or to a max setting if you assign one). The Thermostat E is also capable of integrating with other Nest products and with Google Home. It can receive communication from the Nest Protect smoke alarm system to turn the furnace or fan off if Nest Protect detects dangerous carbon monoxide gas or smoke. It can inform the Nest Cam to turn on automatically when it knows you're away. And you can control the Thermostat E by telling Google Home what to do, such as OK Google, change the temperature to 72. When the Thermostat E senses your presence and turns everything back on, it also lights up and displays the temperature. Energy costs are among the biggest in the home, and the Thermostat E helps
View Item

Be The Superhero Of Your Smart Home
You can teach an old 🏡 new tricks with smart devices. Whether your house is one or one hundred years old it can be a smart home. Sign up today to see the top 12 smart devices to build your smarter home. 🙂 Are you more interested in a Google smart home or an Amazon smart home? Let us know above.