P-PKG1W-WH-R 120V Smart Lighting Dimmer Switch & Remote Kit for Wall & Ceiling Lights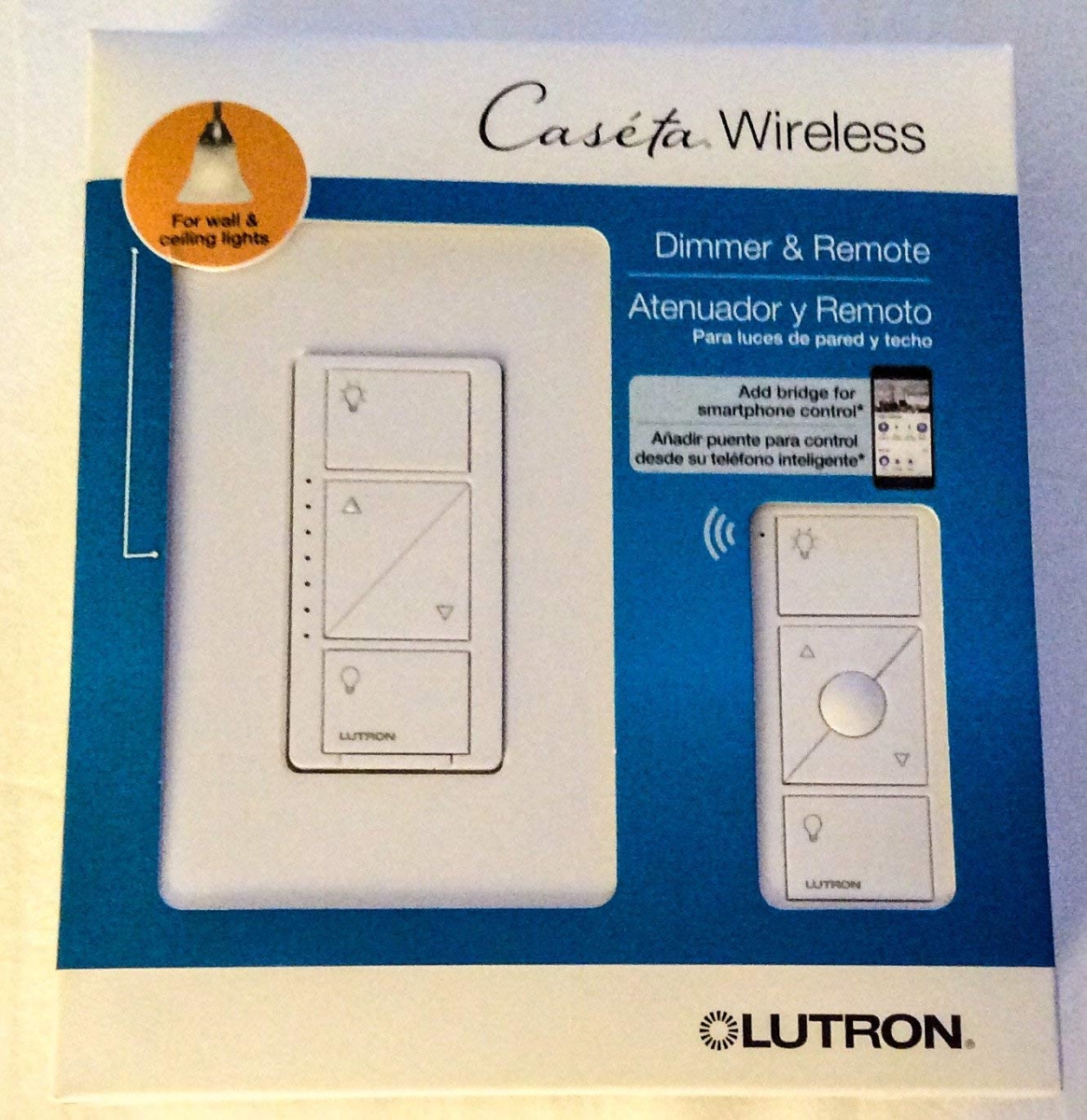 Conveniently create just the right light for reading, watching TV or entertaining, with the Lutron Caseta Wireless plug-in lamp dimmer and Pico remote control. The plug-in lamp dimmer simply plugs into a standard outlet and can be used with up to 2 lamps. Control the lights from anywhere in the room by using the Pico remote control either in your hand, on a tabletop pedestal or by mounting the remote directly to the wall. You can even add a wall switch to control plug-in lamps without running wires or cutting holes using the Pico remote control with ...
Buy Now
$88.82

Related Products
$149.97
Everything you need to monitor control, and secure your home from anywhere Control lights, electronics, and small appliances from your mobile device Receive immediate alerts if doors or windows open unexpectedly Be notified of movement inside your home Know if children are accessing off-limits areas Monitor temperature changes in your home Samsung SmartThings Home Monitoring Kit The Samsung SmartThings Home Monitoring Kit has everything you need to start monitoring, controlling, and securing your home from anywhere. This kit includes a Samsung SmartThings Hub, Outlet, Motion Sensor, and two Multipurpose Sensors. Use these devices together with the free Samsung SmartThings app to automatically turn on lights if there is movement in your home; control lights and small appliances from the palm of your hand; receive alerts if doors and windows are opened unexpectedly; and much more. You can also add compatible cameras, locks, alarms, and more to enhance your monitoring solution. Samsung SmartThings Hub is the Heart of Your Smart Home The centerpiece of the Samsung SmartThings product line, the Samsung SmartThings Hub controls hundreds of compatible devices that you can use to customize your smart home. With a Samsung SmartThings Hub, you can connect smart sensors, lights, locks, cameras, and more and control them from your smartphone with the free Samsung SmartThings app. Control Your Electrical Devices from Anywhere Enjoy full control of all your home electronics whether you're at home or on the go with the Samsung SmartThings Outlet. By plugging your devices into the Samsung SmartThings Outlet, you can control them from anywhere using the Samsung SmartThings App. Use timers to automatically turn lights on or off while you are on vacation, or make sure the iron isn't still on by turning off power to the outlet. With the Samsung SmartThings Outlet, you can know definitively whether lights, electronics, and small appliances are turned on or off no matter where you are.
View Item

$157.99
Samsung SmartThings Hub, 2nd Generation Style:Hub SmartThings lets you easily control, monitor, and secure your home from anywhere in the world. The heart of your smart home, the Samsung SmartThings Hub will connect all of your different smart locks, lights, outlets, thermostats, and more and let you control them from the free SmartThings app. Receive notifications about what's happening in and around your home and use your smartphone to remotely control your home's security, energy usage, lighting, and more. Since SmartThings is compatible with a wide variety of smart devices from different companies, once you have the SmartThings Hub and the free app for iOS, Android, or Windows, you can add as many additional SmartThings sensors or other popular Z-Wave, ZigBee, or Internet-connected products as you want to enhance your connected home. The Samsung SmartThings Hub works in the US and Canada. If the Honeywell Programmable Thermostat was not detected, you may need to reset the device through a Z-Wave exclusion before it can successfully connect with the SmartThings Hub. To do so in the SmartThings mobile app: 1. Tap the menu 2. Tap the Hub 3. Tap Z-Wave Utilities 4. Tap General Device Exclusion 5. When prompted: 1. Press the System button on the left side of the thermostat's display 2. Press and hold the blank center button until the display changes 3. The first set of numbers/arrows is the "Function" section - Scroll until you find "RF10" 4. The second set of numbers/arrows is the "Setting" section - Select 0 5. Press Done in the lower left corner to save and exit After the app indicates that the device was successfully removed from SmartThings, follow the first set of instructions above to connect the Honeywell Programmable Thermostat. Manufactured by: Samsung SmartThings
View Item

Be The Superhero Of Your Smart Home
You can teach an old 🏡 new tricks with smart devices. Whether your house is one or one hundred years old it can be a smart home. Sign up today to see the top 12 smart devices to build your smarter home. 🙂 Are you more interested in a Google smart home or an Amazon smart home? Let us know above.