SKWT433 Wireless Security System Door and Window Sensor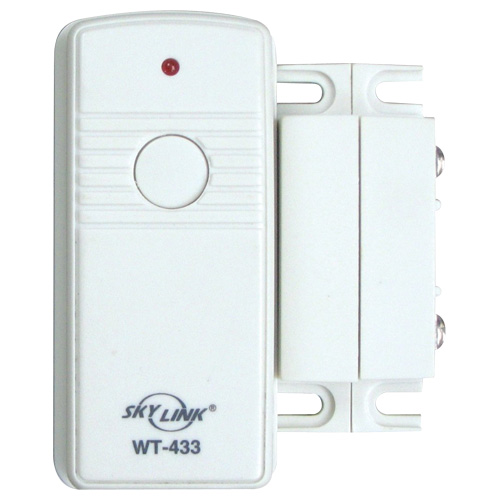 Increase your peace of mind at home by making sure intruders don?t go undetected. The Skylink Wireless Security System Door/Window Sensor monitors your home entrances and alerts you when a door or window is opened. Keep your property safe; keep your family safe. Features :Protects doors, windows, and other entrances. Sends a signal to your Control Panel or Dialer when the entrance is opened. Works with Skylink Security System and Emergency Dialer. Add on as many magnetic contacts as needed. Contents:Sensor. Battery. Specification :Power source - 12V alkaline battery (included) Operating range - 100 feet Compatible Skylink receivers - Security ...
Buy Now
$34.86

Related Products
$119.77
The Skylink security system deluxe kit is a do-it-yourself wireless security system that is easy to install and ready to use. 4-zone system is designed for houses up to 3000 sq. ft., plus apartments, condos, offices and businesses. Application: Security system, Kit Includes: control panel, motion sensor, 2 door/window contact sensors, keychain transmitter, AC adapter and mounting hardware, Battery Included: Yes, Range (ft.): 100
View Item

$34.19
Receive an instant alert if your door or window is breached. Protect your home and family with a simple security system that monitors a single entry to your home. The Household Door/Window Alert System is a magnetic contact sensor system that will monitor any door or window within your house, notifying you instantly via audible and visual indicators if the entry is breached. Best of all, the Household Door/Window Alert System is easy to set up, with the sensor alerting the receiver wirelessly. Mount the sensor on the door or window frame, with the magnet on the door or window itself. When the magnetic contact is broken, the sensor will send its wireless signal to the receiver, which will notify you instantly of the breach. With its range of 300 feet, you'll be able to place the receiver in any convenient location in your home. The included receiver will control up to four different sensors. Not included, you can add a Household Garage Door Alert Sensor or a Household Motion Alert Sensor for security, or a Household Water Alert Sensor for water leaks. When multiple sensors are installed, only the corresponding zone LED will flash, so there will be no confusion. In addition, you'll know which zone is being triggered by the number of beeps emitted in succession. The audible alert can be muted easily if desired.
View Item

Be The Superhero Of Your Smart Home
You can teach an old 🏡 new tricks with smart devices. Whether your house is one or one hundred years old it can be a smart home. Sign up today to see the top 12 smart devices to build your smarter home. 🙂 Are you more interested in a Google smart home or an Amazon smart home? Let us know above.