Skylink Wireless Security System Door/Window Sensor (WT-433)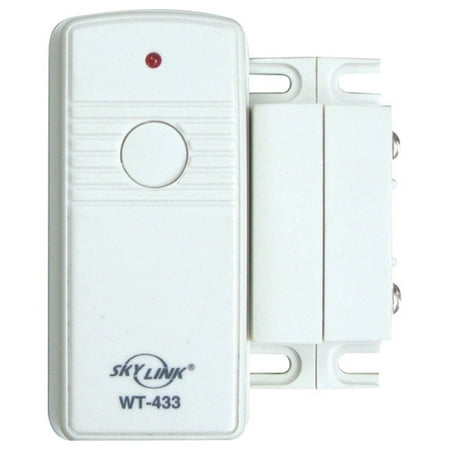 Increase your peace of mind at home by making sure intruders donâ t go undetected. The Skylink Wireless Security System Door/Window Sensor monitors your home entrances and alerts you when a door or window is opened. Keep your property safe; keep your family safe. Protects doors, windows, and other entrancesSends a signal to your Control Panel or Dialer when the entrance is openedWorks with Skylink Security System and Emergency DialerAdd on as many magnetic contacts as neededHow It WorksWhen the door or window is opened, contact is broken between the sensor and the magnet, and the sensor signals the ...
Buy Now
$22.95

Related Products
$25.95
Extra Door / Window Sensor... SAVE! Protects entrances and sends a signal to the control panel or dialer when contact is broke. Up to 100' range. Measures 3 3/8 x 1 1/2 x 1 1/8" and weighs 2 3/5 ozs. Order ONLINE Today! AVAILABLE SEPARATELY: Skylink Complete Wireless Alarm System and Smoke / Carbon Monoxide or Extra Motion Sensors - word search in our Store for 'Sensors' and 'Alarm System'. Extra Door / Window Sensor
View Item

$239.90
This Skylink SC-1000 Total Protection Wireless Alarm System comes with a complete wireless security system that can be installed in minutes. With the motion sensor and two door/window sensors, the system coverage is adequate for a decent size house. With
View Item

Be The Superhero Of Your Smart Home
You can teach an old 🏡 new tricks with smart devices. Whether your house is one or one hundred years old it can be a smart home. Sign up today to see the top 12 smart devices to build your smarter home. 🙂 Are you more interested in a Google smart home or an Amazon smart home? Let us know above.