Tp-Link KC120 Kasa Cam 1080p Smart Home Security Camera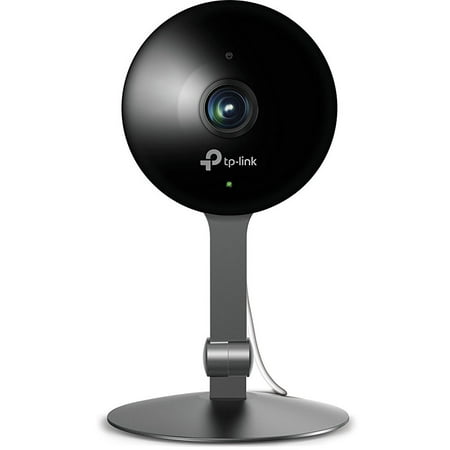 Crystal Clear Live Video Stream All-glass Lens With 130deg View Night Vision Up To 25ft Works With Amazon Alexa (echo Show) Stores Up To 2 Days/1gb Of Video On The Cloud For Free Customized Activity Zones Reduce False Alarms Records A Clip Every Time It Senses Motion Or Detects A Sound 2-way Audio With Built-in Microphone & Speaker Videos Are Secured With Industry-standard Encryption Free Kasa App Includes Stand With Magnetic Base, Mounting Bracket For Wall Installation, Screws, Power Adapter, 10ft Usb Cable & Quick-start ...
Buy Now
$129.99

Related Products
$49.99
Crystal Clear Video - Instant Activity Alerts - Two-way Audio - Activity Zones - Wide Angle Field Of View - Night Vision - Cloud Storage Plans - 24/7 Live ViewKeep an eye on your things with Kasa Spot the 1080p full-HD indoor security camera. Crystal Clear VideoSharp and clear 1080p full-HD provides high-quality video right in the palm of your hand. Wide Angle Field Of ViewThe Spot's 130 wide-angle field of view makes sure nothing is out of view. Set it up in a corner and get a full view of your living room or place it on top of a shelf to get a great view of your kitchen. Instant Activity AlertsNo need to check your Kasa Spot throughout the day. Get automatic alerts when your Spot detects motion or sound. Night VisionEven in the dark the Kasa Spot has Night Vision up to 20 feet. Never miss a thing at night and still get the same high-quality video youre used to. Two-way AudioUse crisp two-way audio to communicate with nosy roommates family or even mischievous pets. Cloud Storage PlansUpgrade your Kasa Care subscription plan and enjoy video recordings for up to 30 days. Activity ZonesConfigure up to 4 customizable zones for more meaningful alerts. Place zones around your front door kitchen or anywhere you like to focus your cameras view.24/7 Live ViewKeep an eye on whats important to you real-time from anywhere with the Kasa Smart app. Even stream live video to any Alexa or Google Assistant supported display like a Fire TV Echo Show or Chromecast. - (1) Kasa Spot - (1) Power Adapter - (1) 10 ft USB Cable - (2) Mounting Screws - (1) Mounting Template - (1) Quick Start Guide
View Item

$99.99
Premium Outdoor CameraThe Kasa Cam Outdoor is a full-featured weatherproof security camera that you can access from anywhere. Day or night, rain or shine, Kasa Cam protects what you love most. Free Cloud StorageAccess up to 2-days of crystal clear 1080p streaming video at no charge. Watch live or recorded video, download, and share with anyone. Siren and Two-Way AudioUse crisp two-way audio to greet the delivery person at your front door or use the built-in siren to scare away intruders. With motion and sound detection, the Kasa Smart app alerts you of activity that matters. Mount, Rotate, and MonitorMagnetic wall mount and mounting plate make for a quick DIY install. Configure and customize your camera for the best angle. The Kasa Smart app also guides you through each step of the installation, connecting your outdoor security camera to your home Wi-Fi. Note: Weatherproof outlet needed for outdoor use. Crystal Clear VideoSharp and clear, wide-angle 1080P video makes sure you never miss a thing. Manually zoom in to get a closer look to what's going on, day or night. See something or someone suspicious, just zoom in and get a better view. Even at night, the outdoor camera will detect activity up to 30 ft. away with Night Vision. Watch from AnywhereWatch live or recorded video at any time on your smartphone with the free Kasa Smart app. Even stream live video to any Alexa or GoFree Cloud StorageSiren and Two-Way AudioMount, Rotate, and MonitorCrystal Clear VideoWatch from AnywhereInstant NotificationsEasy Diy InstallActivity ZonesWeatherproof
View Item

Be The Superhero Of Your Smart Home
You can teach an old 🏡 new tricks with smart devices. Whether your house is one or one hundred years old it can be a smart home. Sign up today to see the top 12 smart devices to build your smarter home. 🙂 Are you more interested in a Google smart home or an Amazon smart home? Let us know above.