TP-Link HS105 KIT Wireless Mini Hs105 Mini Smart Plug, Pack of 2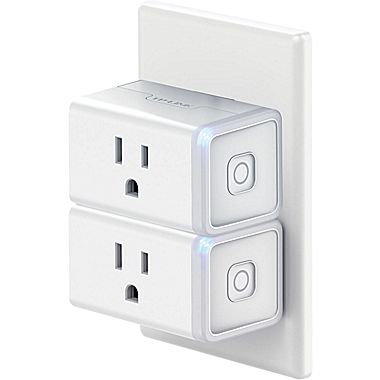 Control up to two devices in your home from anywhere in the world by plugging them into these standard three-prong HS105 Wi-Fi Smart Plugs from TP-Link. Each plug enables you to turn on and off devices such as a lamp, fan, or coffee machine. The Smart Plug connects to your iOS or Android mobile device via Wi-Fi, allowing you to access any item plugged into the outlet through the Kasa application. FeaturesWireless Mini Hs105 Mini Smart Plug, Tilt Day & Night HD Wireless Cloud Camera Pack of 1 Turn electronics on/off from anywhere with mobile devices ...
Buy Now
$67.02

Related Products
$58.99
Run the House on your Schedule Control electronics from anywhere using your tablet or smartphone with the HS105 Smart Plug Mini. Turn devices on and off, create schedules and set timers using the Kasa app. Away Mode makes it look like your home when you're not for added security, and the HS105 works with Amazon Alexa to enable voice control. Enjoy peace of mind by checking on your devices remotely and always coming home to a well-lit house. Set connected devices to turn on and off as needed, conserving energy and helping you save on your electricity bill. Keep Outlets Free Compact housing makes the HS105 considerably smaller than other smart plugs. With a thickness of just 1.5 inches, the smart plug blends into your outlet and room décor and won't block adjacent power sockets. Feel more Secure Away Mode helps improve your home security by turning electrical devices like lamps on and off at random intervals to give the appearance that you're home even while you're traveling. Stay on Schedule You can use the HS105 to create schedules for connected electronics based on your daily and weekly routines. Have lamps, fans, and other devices turn on and off automatically at the same time (or different times) each day and night. Scheduling also helps lower your electricity bill by keeping power-hungry devices off when they are not needed. Know What's Happening With the HS105, you can check to see if connected devices are on or off, even when you're away from home. Enjoy peace of mind by making sure you didn't leave the lights or your iron on. In case you did, switch them off without having to return home. And the smart plug's countdown feature lets you set a timer that switches it off automatically so you can set and forget any connected device. Note: 4-Pack includes four (4) smart plugs. Requires a secured 2.4 GHz wi-fi network connection Condition: New Warranty: 1 Year Warranty
View Item

Be The Superhero Of Your Smart Home
You can teach an old 🏡 new tricks with smart devices. Whether your house is one or one hundred years old it can be a smart home. Sign up today to see the top 12 smart devices to build your smarter home. 🙂 Are you more interested in a Google smart home or an Amazon smart home? Let us know above.