TP-Link HS107 Wi-Fi Smart Plug with 2 Mini Dual Outlets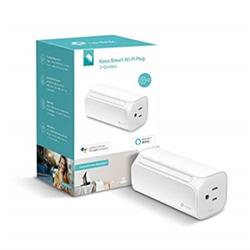 Every home needs an electronics expert, someone who can decide if it makes sense to buy the latest equipments. If you are a gadget freak, our Electronics catalog is your dream destination. If you're still stuck at the basics, our elaborate product specifications shall handhold you through the purchase. FeaturesRemotely Turn On/Off up to Two Devices Wi-Fi Connectivity 2.4 GHz Wireless Frequency Scheduled Usage SpecificationsConnectivity: Wi-Fi OS Compatibility: iOS 9 or ...
Buy Now
$54.41

Related Products
$50.95
TP-Link Kasa Smart Wi-Fi Outdoor Plug Brand New Includes Two Year Warranty The TP-Link Kasa Smart Outdoor Plug features a built-in power amplifier for long range Wi-Fi with reach of up to 300 ft. The plug works with a secured 2.4GHz Wi-Fi network without the need for a separate hub. It has an IP64 rating that ensures your device will be protected against entry of dust, splashes of water, and fire. The Kasa Smart light bulbs, plugs and switches can be grouped for unified control with one single tap on the smartphone. Kasa Smart Outdoor Plug
View Item

$65.53
TP-Link HS100 Smart Plug (2-Pack), Wi-Fi, Works with Alexa, Control Your Devices condition: New Brand: TP-Link MPN: HS100 KIT Code: f1c-648048000282249
View Item

Be The Superhero Of Your Smart Home
You can teach an old 🏡 new tricks with smart devices. Whether your house is one or one hundred years old it can be a smart home. Sign up today to see the top 12 smart devices to build your smarter home. 🙂 Are you more interested in a Google smart home or an Amazon smart home? Let us know above.