TP-Link RE370K AC1200 W-Fi Range Extender & Repeater Smart Plug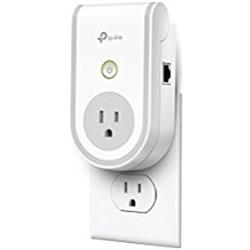 FeaturesCombination Smart Plug & Wi-Fi Range Extender Ideal for extending Wi-Fi to Echo/Alexa devices Works with any standard router or gateway, High Speed Mode allows for the most ideal HD streaming & gaming experience Turn electronics on or off from anywhere with your tablet SpecificationsDimension: 3.9 x 6.7 x 4.1 in. Weight: 1 ...
Buy Now
$55.64

Related Products
$28.82
TP-LINK HS110 Wi-Fi(R) Smart Plug with Energy Monitoring *Wi-Fi(R) Smart Plug with Energy Monitoring * Remote access with free Kasa(R) app; Tracks real-time & historical energy use; Away mode turns devices on & off at scheduled times to give appearance that someone is home; Remote checking on devices, creating schedules & setting timers; Voice control ability by pairing with Amazon Echo(R); Easy to use & install by simply plugging in & connecting to existing Wi-Fi(R) network; 2-year warranty; * WARRANTY: TWO YEAR
View Item

$48.73
Manufacturer TP-LINK Technologies Co, Ltd Manufacturer Part Number HS107 Brand Name TP-LINK Product Model HS107 Product Name HS107 Smart Plug Product Type Smart Plug Technical InformationWi-Fi ControllableYes MiscellaneousAdditional InformationDual Outlets
View Item

Be The Superhero Of Your Smart Home
You can teach an old 🏡 new tricks with smart devices. Whether your house is one or one hundred years old it can be a smart home. Sign up today to see the top 12 smart devices to build your smarter home. 🙂 Are you more interested in a Google smart home or an Amazon smart home? Let us know above.