TP-LINK Wi-Fi Smart Plug with Energy Monitoring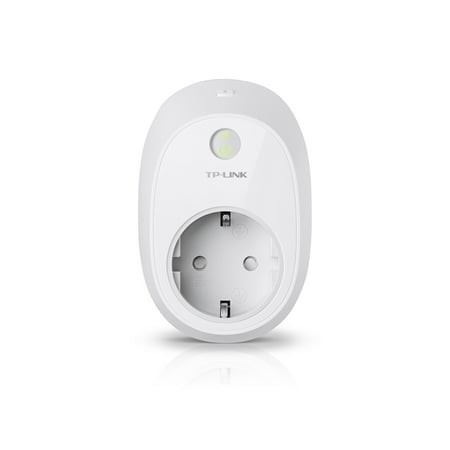 Remote Access â Control devices connected to the Smart Plug wherever you have Internet using the free Kasa app on your smartphone. Scheduling â Schedule the Smart Plug to automatically power electronics on and off as needed, like setting lights to come on at dusk or turn off at sunrise. Energy Monitoring â Analyze a deviceâ s real-time and historical power consumption. Away Mode â Turns your devices on and off at different times to give the appearance that someone is home. Amazon Echo Voice Control â Amazon Echo (sold separately) lets you control devices connected to the Smart ...
Buy Now
$50.91

Related Products
$51.55
Kasa Smart Wi-Fi Outdoor Plug
View Item

$56.06
TP-Link HS100 WiFi Smart Plug and Conair CD109BP Infiniti 1.5" Curling Iron: TP-Link Hs100 WiFi smart plugRemote control devices using the free Kasa appAway mode turns devices on and off at scheduled timesSchedule, check on and set times remotelyConserves energy and saves moneyVoice control compatible with Amazon EchoEasy to use and install by simply plugging in and connecting to existing WiFiConair Cd109bp Infiniti 1.5" Curling Iron1.5" curling ironNano tourmaline ceramicPowerful ceramic heaterUniform heat recovery maintains constant temperaturesUltrahigh-heat levels up to 395 degrees FProtective heat shield for safe, easy storage30-sec instant heat upAuto shutoffLED temperature settingsExtra-long professional-length cord
View Item

Be The Superhero Of Your Smart Home
You can teach an old 🏡 new tricks with smart devices. Whether your house is one or one hundred years old it can be a smart home. Sign up today to see the top 12 smart devices to build your smarter home. 🙂 Are you more interested in a Google smart home or an Amazon smart home? Let us know above.