TP-LINK HS200 Hard Wire Smart Light Switch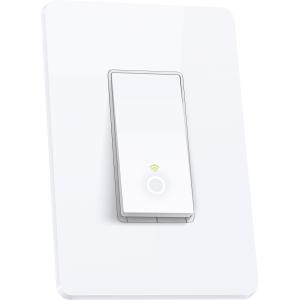 TP-LINK HS200 Smart Wi-Fi(R) Light Switch *Smart Wi-Fi(R) Light Switch * Remote access from smartphone or tablet on free Kasa(R) mobile app; Lights can be scheduled to turn off & on at dawn, dusk or custom × Random mode turns lights on & off at unscheduled time for a lived-in appearance; Compatible with Amazon(R) Alexa(TM) with voice control ability when paired with Amazon Echo(R), Dot, Tap & other supported devices; LED indicator makes finding the switch easy; * WARRANTY: TWO ...
Buy Now
$39.23

Related Products
$9.99
Smart home plug in-home installation
View Item

$64.98
Match natural light patterns with the Kasa Smart tunable white LED light bulb. Tunable WhiteCreate cozy warm whites to relax after a long day or energetic bright whites when you need a boost with Kasa Smart's tunable white LED light bulb. Tune the appearance from a soft white (2700k) to a bright light (5000K).Control From AnywhereControl your Kasa Smart lighting from anywhere with the highly-rated Kasa Smart app (available for iOS, Android). Make sure you turned your bedroom lights off from the office or turn your living room lights on before you get home. Your Voice Has PowerUse simple voice commands to control all of your Kasa Smart light switches or light bulbs with any Alexa, Google Assistant or Microsoft Cortana smart speaker. Turn on kitchen lights when your hands are full, let your voice assistant know to dim your lights, even turn off hallway lights as you're walking to bed.A Single Tap Is All It TakesUse the Grouping feature on the Kasa Smart app to combine your devices together for unified control with one single tap on your smartphone. Combine your living room bulbs, plugs and light switches together for an easier way to turn them on when you get home. No Hub RequiredConnect your Kasa Smart Wi-Fi Light Bulb, Tunable White to your home's secure Wi-Fi network. No need for a hub or extra equipment. Voice ControlUse simple voice commands to control KasaTunable WhiteControl From AnywhereYour Voice Has PowerA Single Tap Is All It TakesNo Hub RequiredVoice ControlEnergy Efficient
View Item

Be The Superhero Of Your Smart Home
You can teach an old 🏡 new tricks with smart devices. Whether your house is one or one hundred years old it can be a smart home. Sign up today to see the top 12 smart devices to build your smarter home. 🙂 Are you more interested in a Google smart home or an Amazon smart home? Let us know above.