LNKF7C074 Wemo Bridge Wireless Control, White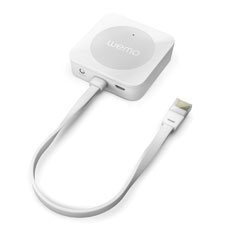 With the Wemo bridge, you can easily enable your Wemo devices to work seamlessly with your Apple HomeKit. Securely control your smart home or office using the Apple Home app and Siri on an iPhone, iPad, or Apple Watch. When using the smart bridge and the Apple Home app, you can control Wemo-connected lights and appliances from virtually anywhere by using the Apple Home app through Apple TV, or your iPad set up as a home hub. In addition to enabling control through the Apple Home app, it also allows you to use intuitive voice commands to control your ...
Buy Now
$66.18

Related Products
$34.95
The WeMo Insight Switch works with the free WeMo app to give you wireless control of your appliances and electronics; turn on a space heater to get the room nice and cozy before you get there, be at ease that you turned off the hair straightener or iron after the morning rush or bring on the holiday cheer and turn on the holiday lights! Put your little ones to bed and turn off the reading lamp and turn on the nightlight as you tuck them in. Modular system. Users can add additional switches easily any time. Control as much or as little of the home as desired. Plugs into any regular 120V wall outlet.
View Item

$65.75
This smart plug provides real-time reports on how much energy your devices are consuming to easily monitor how much a plugged-in device is costing you, or how much energy a particular room consumes. Plus, it uses your existing Wi-Fi network to provide wireless control of lamps, heaters, fans and more with no subscription or hub. Using the free Wemo app, you can also schedule your lamps to turn off at sunrise, schedule a fan to turn on at noon, or synchronize your lights with the sunset so you never arrive to a dark room. When set to "Away Mode," it can turn your plugged-in lights on and off randomly to make it appear like you're home for extra security. Pair this dimmer with Amazon Alexa or Google Assistant built-in devices like Google Home to dim your lights with just the power of your voice.
View Item

Be The Superhero Of Your Smart Home
You can teach an old 🏡 new tricks with smart devices. Whether your house is one or one hundred years old it can be a smart home. Sign up today to see the top 12 smart devices to build your smarter home. 🙂 Are you more interested in a Google smart home or an Amazon smart home? Let us know above.